Hand Operated Sealing Machine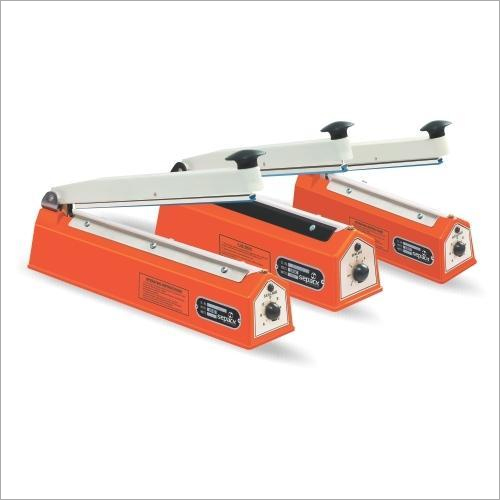 Hand Operated Sealing Machine
Price And Quantity
Product Specifications
Ideal for sealing heat sealable poly pouches
Product Description
The Hand Operated Sealing Machine has hot bar sealers, which are incorporated for covering pockets and different items. Moreover, it conveys physically worked moment or motivations fixing highlights in the midst of basic fixing and bundling applications. In the event that you want to buy a machine that will caution you if there should arise an occurrence of crises and disappointments then our Hand Operated Sealing Machine is the perfect decision for any partnered applications. Besides, it has visual and in addition sound fixing pointers for the previously mentioned reason(s). This machine is flawless for pressing fluctuated material, for example, powder, solids, granules and the sky is the limit from there. Besides, this range can be profited by the clients in fluctuated specialized details to suit their specific prerequisites.
Key Highlights of Hand Operated Sealing Machine:
Modifiable electronic clock
Flexible rest and portable jaw
Basic tasks and hoisted profitability
Visual signs during the blending procedure
Features of Hand Operated Sealing Machines:
Ideal for Sealing heat Sealable Poly Puches
Hand Operated Impulse (instant) sealing
Hot bar sealers for laminated pouches
Adjustable electronic timer
Audio visual sealing indicators
Suitable for packing solids. granules and powders
Round element option for simultaneous sealing and cutting.
Product Details of Hand Operated Sealing Machine:
| | |
| --- | --- |
| Minimum Order Quantity | 1 Piece |
| Seal Length | 400 mm |
| Seal Width | 1.6 mm |
| Volttage | 240 V |
| Watts | 340 W |
| Dimensions | 520 x 85 x 270 mm ( L x B x H ) |
| Weight | 5.2 kg |
Technical Specifications of

Hand Operated Sealing Machine

:
Model

Seal (mm)

Power

Dimensions (mm)

Weight

Length

Width

Voltage

Watts

L

B

H

KG

Impulse Sealers

190 HW/HP

190

3

240

290

320

85

145

2.5

200 HB

200

1.6

240

200

320

85

145

2.5

250 Delta

250

1.6

240

270

350

85

145

2.6

300 Delta

300

1.6

240

300

420

85

145

2.75

300 HB

300

1.6

240

300

410

85

145

4.15

300 HW

300

3

240

380

420

85

145

4.3

400 HB

400

1.6

240

380

520

85

145

4.8

400 D

400

1.6

240

340

520

85

145

5.2

500 HB

500

1.6

240

440

630

85

145

5.7

600 HB

600

1.6

240

500

730

85

145

6